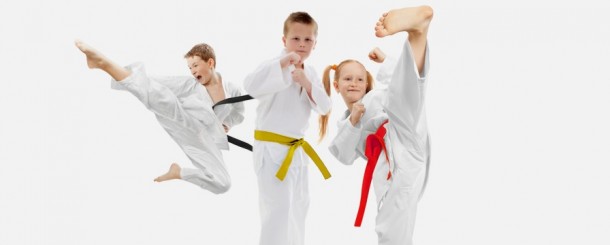 Ideal for:
Ages 3-18
Self defence and bully defence
Building confidence, discipline & fitness
Key features:
Afternoon and weekend classes
Classes split by age & experience
Fully equipped on-site gym for parents
"Working with Children" qualified instructors
Fully matted facilities
Looking for a positive physical activity to enhance your child's life?
Taekwondo is not only an Olympic sport, but a martial art practice that develops the student from the inside out. For children and teens, Taekwondo instils life skills and muscle memory that, over time, turns your child into a strong adult – in mind, body and spirit.
Our students aged from 3 to 12 are building a myriad of skills for success – while having fun.  Perhaps the most important skills learned in our training, are the focus, confidence, and discipline.  Taekwondo also strengthens gross motor movement and improves coordination.
As well as keeping fit, children learning Taekwondo are building skills for overcoming obstacles and setbacks. The discipline also teaches kids how to deal with bullies and to develop the personal confidence that is so important for a good start in life.
Taekwondo also enhances children's performance in other sports due to its focus on strength, endurance and flexibility.
Age & Experience Specific Classes
Our instructors are your child's best motivators. By inspiring students with fun and age-appropriate classes, each child develops characteristics and physical skills relevant in their lives.
As students progress to the next class or belt level, new skills challenge their abilities and foster their personal growth. Taekwondo's grading process is a great way for kids to learn about setting and achieving personal goals.
The special focus taught by martial arts can improve a child's success in school, at home, in other sports and socially. Find the age-appropriate class for your child or children, below:
Taekwondo Foundations – 3 to 4 year-olds learn to socialise, listen and move their bodies in a playful atmosphere.
Little Samurais – 4 to 6 year-olds learn discipline, respect, basic taekwondo skills and self-defence. Energetic drills and games keep these kids engaged and wanting to come back for more.
Black Samurai – 7 to 12 year-olds are challenged physically and mentally as they being on their path to becoming a black belt. Integrity, commitment and bully-defence are reinforced and physical training is stepped up, as this age group loves a challenge.
Taekwondo for Teens – preparing for the adult world brings a sense of independence that we balance with the need to work in a group dynamic. Teamwork, communication and positive attitude is practised, while physical training is paramount.
Leaders' Program – 10 to 14 year-old Taekwondo students can undertake a rewarding program to become role models physically and mentally for BTC's younger Taekwondo students, with high expectations placed on these special leaders. For details, see the teenagers' page.
Extra Benefits of training at BTC
BTC is the largest health, fitness and martial arts centre in Queensland, with four fully-equipped studios permanently set up for martial arts classes. We also offer:
Free Gym – both parents enjoy free use of our air-conditioned gym – so you can squeeze in a workout while your kids train.  There are also big screen TV's in the gym so you can still watch the kids in action.
Special Event Venue – use our studios and hire our instructors for events, such as birthday parties, corporate workshops, anti-bullying training and street smart programs
Certified Instructors – Our trainers undertake a special Teaching Children Program to bring out the best in our younger students and meet parents' and kids' expectations. Each has a 'Working with Children' Blue Card, issued by the Queensland Commission for Children and Young People.
No prior fitness or experience is needed. Book an introductory class for your child today.