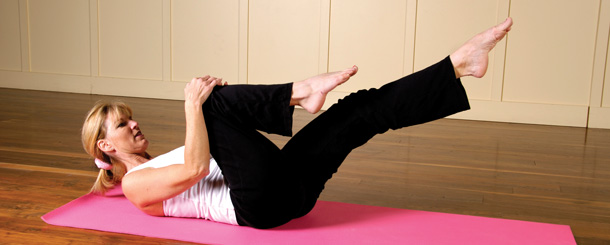 Ideal for:
Stretching out the days stresses
Building a strong core and better health
Key features:
Build core strength & tone your tummy
Stretch out and tone up.
Injury rehab, sore necks and backs.
Fully equipped studio and on-site gym
Pilates- The New 'IT' Workout
Interested in getting fit without spending long hours at the gym or going for jogs early morning? Feeling upset that you can't fit into your favourite little black dress anymore? Then our popular Brisbane Pilates classes can help you get the figure you want.
Pilates is a wonderful way to renew your body and mind. Are you feeling stressed and need some time to yourself? Sore neck, sore back, body just not feeling the way it used to? Why not take some time out just for you and try BTC Pilates. Pilates allows you to strengthen and tone your whole body while helping you to relax and de-stress. BTC Pilates offers a relaxed, fun and social atmosphere to workout your body and relax your mind.
Pilates: Nothing like having all day energy
Imagine feeling full of energy, having the stamina to work all day or keep up with the kids – that's BTC Pilates. Think back to a time before every day used to end with a sore, stiff, neck, back and shoulders. A time before you had those extra wobbly bits. Some say Pilates gives you back the body you used to have. Others say it gives them the body they always wanted. Everyone says nothing feels better than having all day energy, and feeling good, that's BTC Pilates.
Pilates will help increase your stamina and energy, release stress, work on injury prevention and rehabilitate injuries, get fit and flexible, whilst toning your body and improving your well being. Nothing feels better than good health.
What is Pilates?
Pilates was developed by Joseph Pilates in the early 20th century and is a fitness regime that combines breathing techniques with a series of gentle but effective movements which focus on improving one's core strength. Did you know that:-
Pilates is an ideal workout for seniors.
Helps faster recovery from injuries and sprains.
Tones up your body faster.
Is a fantastic stress buster.
Enhances your flexibility & strength.
Boosts your overall confidence.
Is it for you? Why not?
You will find our Brisbane Pilates sessions soothing and leave feeling refreshed, calmer and at peace. It's no wonder then that so many people find our Brisbane Pilates classes a must-try!
It may come as a surprise but practising Pilates when you are pregnant, can help to keep you fit throughout your pregnancy and help you get back into shape faster, post your delivery too!
The different moves taught in our Brisbane Pilates classes:-
Improve your posture.
Strengthen your muscles.
Do not put any strain on your body.
And don't make you uncomfortable either!
Try our Pilates Classes for FREE
We're sure that once you try our Pilates classes you'll see how easy and enjoyable it is. BTC has over 90 classes each week, so we're sure to have a class to suit you and your lifestyle. You don't have to come to the same class at the same time each week either, so no matter what pops up you'll never have to miss a class.
All BTC Instructors are specially qualified to help you achieve your goals in a safe and comfortable way, and actually care about you, and your goals. Our Pilates Studio is specially set up and fitted out to make sure you have everything you need. You don't have to be fit and flexible to get started; your instructor will tailor a comfortable level of training especially for you.
Why wait any longer to unleash the new improved you? No prior fitness, flexibility, or experience is needed. Do something for yourself today, and book in for a fun first Pilates class in our fully air conditioned centre -Ph 1300 303 583, or complete our online form and we'll call you to arrange a class at a suitable time.