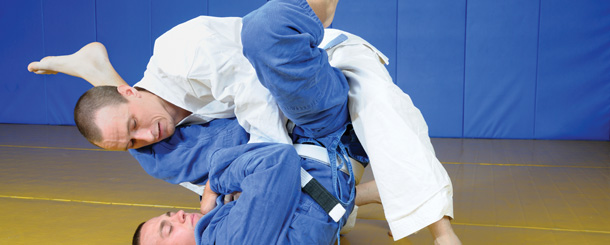 Ideal for:
Men & women
Ages 18-50
Separate beginners & advanced classes
Key features:
Learn to submit even the biggest opponent
Intense workout
Stress buster
Optional one-on-one training
Brazilian Jiu Jitsu (BJJ) is one of the most effective and dramatic martial arts. It's popular throughout the world for its ground fighting techniques that replicate street fighting. BJJ is an exciting alternative to other high-energy workouts because it challenges and focuses the body and mind like no other fitness regime, while also teaching valuable self defence skills and unrivalled self-confidence.
What you will learn
BJJ places importance on overpowering an opponent without causing him any harm. Here's what you'll be taught when you join our BJJ training sessions:
Takedowns
Takedown defence
Ground control, including chokes & joint-locks
Quickly pinning opponents
Using different positions to gain an upper hand
Why learn Brazilian Jiu Jitsu?
Self defence
BJJ teaches the combat techniques that protect you from opponents while causing them no harm. You will be trained in catching and throwing challengers as well as other practical self defence skills you can use in real situations.
Fitness
BJJ is an action-packed workout with fast results. It's a unique way to get fit, with the difference being that you stay motivated and are never bored by predictable routines. You will train in a group of committed peers who, along with BTC's expert trainers, support each other to reach individual goals.
Personal growth
The benefits of BJJ extend well beyond physical fitness to boosting personal confidence and improving wellbeing. Learning BJJ requires a strong mental focus for the fast responses required for this discipline. The high-level mental stimulation during BJJ training provides a powerful stress release and a healthy distraction that helps you deal effectively with everyday problems.
Why train at BTC?
Expert BJJ trainers
Our
professional BJJ instructors
are passionate about their sport. Each has years of experience spent learning, teaching and competing in this and other martial arts styles. They take special care in ensuring that every BJJ student achieves their objectives and progresses at the right individual pace.
Professional-standard facilities
BTC is a dedicated, air-conditioned martial arts centre in Brisbane. Our rooms are permanently set up and ready when your class starts. There's no waiting for a hall to be prepared for your self defence class and there's enough equipment for every student. Our rooms are fully matted for the comfort and safety of beginners and advanced students of any age.
Classes for all levels
You need no prior experience or set fitness level to learn BJJ as a beginner student at BTC.
Onsite gym
BTC has a
fully-equipped modern gym
on the premises. You can work out before, after or between your BJJ sessions, to further increase your fitness and stamina in a familiar and social environment.
Book a FREE trial BJJ class
The best way to know if BJJ is right for you is to try it. Call our friendly staff today on 3177 4550 to book a free lesson, or complete the online form below and we'll get back to you.